High-Capacity IC Pneumatic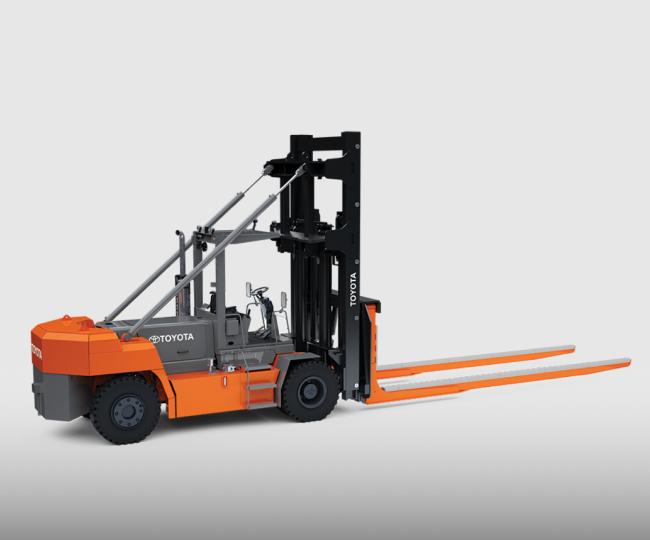 Toyota

High-Capacity IC Pneumatic
Internal Combustion Pneumatic Forklifts
Overview
Toyota's High-Capacity IC Pneumatic Forklift is the largest forklift in Toyota's product line. With a lift capacity up to 125,000 lbs., this large, rugged diesel forklift can handle almost any heavy load. Commonly found loading and unloading large shipping containers or on the construction site, the High-Capacity IC Pneumatic Forklift provides lifting solutions for extremely heavy industrial applications.
Technological Advancement on Display
Every forklift in the Toyota THD line comes equipped with a MD4 7" Touchscreen Display. It combines the rugged power of the THD model lineup with the latest advancements in forklift technology to put ultimate customization, advanced diagnostics, and pertinent forklift information right at your fingertips.
Continued Performance
According to recent studies by Peerless Research Group, more and more forklift owners plan to keep their forklifts for 10+ years! Just like a car, truck or other motorized asset, periodic maintenance, service and upkeep is required, even under normal operating conditions, to keep your Toyota High-Capacity IC Pneumatic Diesel Forklift operating to peak performance. It is not uncommon for Toyota forklift owners to well exceed 10 years of use, as long as the forklift is properly maintained with genuine parts and service. Paired with a Planned Maintenance (PM) Plan, the High-Capacity IC Pneumatic Diesel Forklift can be an asset for your company for years to come.
Overview
Boats are heavy and present unique challenges when moving them on land. But, Toyota Forklifts has marinas and boat manufacturers covered with the new High-Capacity Marina Forklift. The Marina Forklift is built to your unique needs, so you'll get the right piece of equipment for your application, whether you need a forklift for a boat storage facility, at the dock, or boat manufacturing and assembly plants. Each comes standard with negative-lift functionality that lifts and lowers your boats into and out of the water.
Smooth Controls: On Board or Off
Designed for the boating industry, operator comfort and ease of operation are built into the High-Capacity Marina Forklift's unique capabilities. Operators have intuitive operator joystick controls at their fingertips in the cab. But the High-Capacity Marina Forklift also has optional remote control capabilities, meaning the operator can be in control even when walking alongside the forklift.
Advanced Calculation on Display
The High-Capacity Marina Forklift comes equipped with a 7-inch multi-function display that gives you real-time access to vital information such as engine oil pressure, hours, engine diagnostics, and even a built-in calculator for estimating rack height. Durable, functional, and technologically advanced. That's the Toyota High-Capacity Marina Forklift.
Features
3-Speed Dana Transmission

Standard Air Ride Seat

Integrated Overhead Guard

Orange Forks

Left-hand shift lever

Fingertip Hydraulic Controls

MPH travel speed: 19.2-24.9

Operator Presence Sensing System (OPSS)

Engine protection system

Tilt steering column

Operator Presence Sensing System

Engine Monitoring System

Wide view steel cabin

Asbestos Free Components

Load-Sensing Hydraulic System

Upswept Exhaust

Non-slip rubber floor mat

Hydraulic seat-side pilot-type short-throw levers

Cummins Diesel Engine with Tier-4 Final Compliance

Galvanized Components and 3-Step Paint Process

7" Touch Screen Multi-function display

Cylinder Diesel Engine: 6-8

Long operator assisted grips

Standard LED Head Lights and Rear Work Lights

Neutral Safety Switch

Full Hydraulic Power Steering with Synchronized Steering

Horsepower: 164-380

Centralized Grease Lubrication

EPA/CARB Certified Diesel Engine

All Wheel Rotatable Tires

Tinted Glass

Two-Stage, Wide-View Mast with Negative Lift

Wet disc brakes with dedicated oil cooling system

Dome Light

Enclosed Operator Cabin

Electrical Horn
Specifications
| | |
| --- | --- |
| Forklift Load Capacity: | 22,000 - 125,000 lb. Forklift Load Capacity |
| Length to Forkface: | 185.9 - 263 in |
| Lift Height: | 441 Lift Height |
| Overall Width: | 91.1 - 132 in |
| Overhead Guard height: | 115 - 136.4 in |
| Travel Speed Full Load: | 9.9 - 18 mph Travel Speed Full Load |
High-Capacity IC Pneumatic
| Model Number | Load Capacity* (lbs.) | Max. Travel Speed Full Load (MPH) | Max. Lift Speed Full Load (FPM) | Max. Gradeability Full Load (%) | Basic Right Angle Stack** (IN.) |
| --- | --- | --- | --- | --- | --- |
| 5FD100 | 22,000 | 17.4 | 91 | 54 | 185 |
| THD2200-24 | 22,000 | 23 (no load) | 64.1 (standard) 128.2 (high-speed option) | 30 | 203.2 |
| THD2400-24 | 24,000 | 23 (no load) | 64.1 (standard) 128.2 (high-speed option) | 29 | 203.2 |
| 5FD115 | 25,000 | 17.4 | 89 | 45 | 185.8 |
| 5FD120 | 26,000 | 17.4 | 89 | 43 | 185.8 |
| THD2600-24 | 26,000 | 23 (no load) | 64.1 (standard) 128.2 (high-speed option) | 27 | 203.2 |
| THD2800-24 | 28,000 | 23 (no load) | 64.1 (standard) 128.2 (high-speed option) | 26 | 203.2 |
| 5FD135 | 30,000 | 17.4 | 69 | 38 | 198.4 |
| THD3000-24 | 30,000 | 23 (no load) | 64.1 (standard) 128.2 (high-speed option) | 24 | 203.2 |
| 5FDK150 | 33,000 | 17.4 | 67 | 33 | 198.8 |
| THD3300-24 | 33,000 | 23 (no load) | 64.1 (standard) 128.2 (high-speed option) | 24 | 227 |
| THD3300S-24 | 33,000 | 23 (no load) | 64.1 (standard) 128.2 (high-speed option) | 23 | 203.2 |
| 5FDK160 | 35,000 | 18 | 67 | 30 | 204.7 |
| THD3600-24 | 36,000 | 23 (no load) | 64.1 (standard) 128.2 (high-speed option) | 22 | 237 |
| THD3600-36 | 36,000 | 23 (no load) | 53.2 (standard) 106.4 (high-speed option) | 20 | 242 |
| THD3600-48 | 36,000 | 23 (no load) | 53.2 (standard) 106.4 (high-speed option) | 19 | 242 |
| THD3600S-24 | 36,000 | 23 (no load) | 64.1 (standard) 128.2 (high-speed option) | 21 | 206 |
| THD3600S-36 | 36,000 | 23 (no load) | 53.2 (standard) 106.4 (high-speed option) | 19 | 206.5 |
| THD4000-48 | 40,000 | 23 (no load) | 53.2 (standard) 106.4 (high-speed option) | 18 | 252 |
| THD4500-48 | 45,000 | 24.9 (no load) | 53.2 (standard) 106.4 (high-speed option) | 19 | 305 |
| THD4500S-48 | 45,000 | 24.9 (no load) | 53.2 (standard) 106.4 (high-speed option) | 18 | 276.3 |
| THD5000-48 | 50,000 | 24.9 (no load) | 32.7 (standard) 65.4 (high-speed option) | 17 | 305 |
| THD5200-48 | 52,000 | 24.9 (no load) | 32.7 (standard) 65.4 (high-speed option) | 17 | 305 |
| THD5500-48 | 55,000 | 24.9 (no load) | 32.7 (standard) 65.4 (high-speed option) | 16 | 305 |
| THD6000-48 | 60,000 | 21.1 (no load) | 32.7 (standard) 65.4 (high-speed option) | 18 | 315 |
| THD6500-48 | 65,000 | 21.1 (no load) | 32.7 (standard) 65.4 (high-speed option) | 17 | 315 |
| THD7000-48 | 70,000 | 21.1 (no load) | 25 (standard) 50 (high-speed option) | 14 | 315 |
| THD7200-48 | 72,000 | 21.1 (no load) | 25 (standard) 50 (high-speed option) | 14 | 315 |
| THD8000-48 | 80,000 | 19.2 (no load) | 43.9 | 17 | 355.5 |
| THD8000S-48 | 80,000 | 19.2 | 43.9 | 16.2 | 319.3 |
| THD9250-48 | 92,500 | 20.0 (no load) | 43.9 | 12.7 | 355.5 |
| THD9250S-48 | 92,500 | 20.0 (no load) | 43.9 | 12.1 | 327.8 |
| THD10000-48 | 100,000 | 20.0 (no load) | 34.7 | 11.7 | 364 |
| THD11000-48 | 110,000 | 20.0 (no load) | 34.7 | 10.9 | 364 |
| THD12000-48 | 120,000 | 20.0 (no load) | 34.7 | 10.1 | 441 |
| THD12500-48 | 125,000 | 20.0 (no load) | 34.7 | 9.9 | 441.13 |
Features

Features

3-Speed Dana Transmission

Standard Air Ride Seat

Integrated Overhead Guard

Orange Forks

Left-hand shift lever

Fingertip Hydraulic Controls

MPH travel speed: 19.2-24.9

Operator Presence Sensing System (OPSS)

Engine protection system

Tilt steering column

Operator Presence Sensing System

Engine Monitoring System

Wide view steel cabin

Asbestos Free Components

Load-Sensing Hydraulic System

Upswept Exhaust

Non-slip rubber floor mat

Hydraulic seat-side pilot-type short-throw levers

Cummins Diesel Engine with Tier-4 Final Compliance

Galvanized Components and 3-Step Paint Process

7" Touch Screen Multi-function display

Cylinder Diesel Engine: 6-8

Long operator assisted grips

Standard LED Head Lights and Rear Work Lights

Neutral Safety Switch

Full Hydraulic Power Steering with Synchronized Steering

Horsepower: 164-380

Centralized Grease Lubrication

EPA/CARB Certified Diesel Engine

All Wheel Rotatable Tires

Tinted Glass

Two-Stage, Wide-View Mast with Negative Lift

Wet disc brakes with dedicated oil cooling system

Dome Light

Enclosed Operator Cabin

Electrical Horn

Specifications

Specifications

| | |
| --- | --- |
| Forklift Load Capacity: | 22,000 - 125,000 lb. Forklift Load Capacity |
| Length to Forkface: | 185.9 - 263 in |
| Lift Height: | 441 Lift Height |
| Overall Width: | 91.1 - 132 in |
| Overhead Guard height: | 115 - 136.4 in |
| Travel Speed Full Load: | 9.9 - 18 mph Travel Speed Full Load |

Details

High-Capacity IC Pneumatic

| Model Number | Load Capacity* (lbs.) | Max. Travel Speed Full Load (MPH) | Max. Lift Speed Full Load (FPM) | Max. Gradeability Full Load (%) | Basic Right Angle Stack** (IN.) |
| --- | --- | --- | --- | --- | --- |
| 5FD100 | 22,000 | 17.4 | 91 | 54 | 185 |
| THD2200-24 | 22,000 | 23 (no load) | 64.1 (standard) 128.2 (high-speed option) | 30 | 203.2 |
| THD2400-24 | 24,000 | 23 (no load) | 64.1 (standard) 128.2 (high-speed option) | 29 | 203.2 |
| 5FD115 | 25,000 | 17.4 | 89 | 45 | 185.8 |
| 5FD120 | 26,000 | 17.4 | 89 | 43 | 185.8 |
| THD2600-24 | 26,000 | 23 (no load) | 64.1 (standard) 128.2 (high-speed option) | 27 | 203.2 |
| THD2800-24 | 28,000 | 23 (no load) | 64.1 (standard) 128.2 (high-speed option) | 26 | 203.2 |
| 5FD135 | 30,000 | 17.4 | 69 | 38 | 198.4 |
| THD3000-24 | 30,000 | 23 (no load) | 64.1 (standard) 128.2 (high-speed option) | 24 | 203.2 |
| 5FDK150 | 33,000 | 17.4 | 67 | 33 | 198.8 |
| THD3300-24 | 33,000 | 23 (no load) | 64.1 (standard) 128.2 (high-speed option) | 24 | 227 |
| THD3300S-24 | 33,000 | 23 (no load) | 64.1 (standard) 128.2 (high-speed option) | 23 | 203.2 |
| 5FDK160 | 35,000 | 18 | 67 | 30 | 204.7 |
| THD3600-24 | 36,000 | 23 (no load) | 64.1 (standard) 128.2 (high-speed option) | 22 | 237 |
| THD3600-36 | 36,000 | 23 (no load) | 53.2 (standard) 106.4 (high-speed option) | 20 | 242 |
| THD3600-48 | 36,000 | 23 (no load) | 53.2 (standard) 106.4 (high-speed option) | 19 | 242 |
| THD3600S-24 | 36,000 | 23 (no load) | 64.1 (standard) 128.2 (high-speed option) | 21 | 206 |
| THD3600S-36 | 36,000 | 23 (no load) | 53.2 (standard) 106.4 (high-speed option) | 19 | 206.5 |
| THD4000-48 | 40,000 | 23 (no load) | 53.2 (standard) 106.4 (high-speed option) | 18 | 252 |
| THD4500-48 | 45,000 | 24.9 (no load) | 53.2 (standard) 106.4 (high-speed option) | 19 | 305 |
| THD4500S-48 | 45,000 | 24.9 (no load) | 53.2 (standard) 106.4 (high-speed option) | 18 | 276.3 |
| THD5000-48 | 50,000 | 24.9 (no load) | 32.7 (standard) 65.4 (high-speed option) | 17 | 305 |
| THD5200-48 | 52,000 | 24.9 (no load) | 32.7 (standard) 65.4 (high-speed option) | 17 | 305 |
| THD5500-48 | 55,000 | 24.9 (no load) | 32.7 (standard) 65.4 (high-speed option) | 16 | 305 |
| THD6000-48 | 60,000 | 21.1 (no load) | 32.7 (standard) 65.4 (high-speed option) | 18 | 315 |
| THD6500-48 | 65,000 | 21.1 (no load) | 32.7 (standard) 65.4 (high-speed option) | 17 | 315 |
| THD7000-48 | 70,000 | 21.1 (no load) | 25 (standard) 50 (high-speed option) | 14 | 315 |
| THD7200-48 | 72,000 | 21.1 (no load) | 25 (standard) 50 (high-speed option) | 14 | 315 |
| THD8000-48 | 80,000 | 19.2 (no load) | 43.9 | 17 | 355.5 |
| THD8000S-48 | 80,000 | 19.2 | 43.9 | 16.2 | 319.3 |
| THD9250-48 | 92,500 | 20.0 (no load) | 43.9 | 12.7 | 355.5 |
| THD9250S-48 | 92,500 | 20.0 (no load) | 43.9 | 12.1 | 327.8 |
| THD10000-48 | 100,000 | 20.0 (no load) | 34.7 | 11.7 | 364 |
| THD11000-48 | 110,000 | 20.0 (no load) | 34.7 | 10.9 | 364 |
| THD12000-48 | 120,000 | 20.0 (no load) | 34.7 | 10.1 | 441 |
| THD12500-48 | 125,000 | 20.0 (no load) | 34.7 | 9.9 | 441.13 |