Electric Walkie Pallet Jack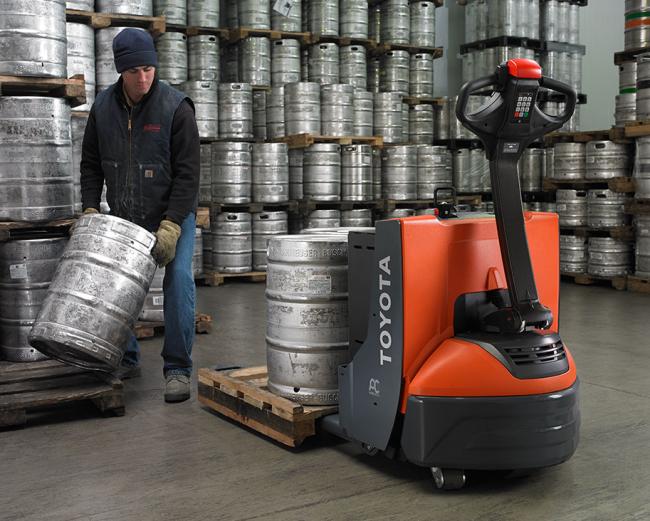 Toyota

Electric Walkie Pallet Jack
Electric Pallet Trucks
Overview
The Toyota Electric Walkie Pallet Jack makes pulling product through the warehouse efficient and convenient. The first of its kind to offer a factory option for an integrated fork scale, the Electric Walkie Pallet Jack can calculate weight even as the load is lifted and save space by eliminating the need for a separate scale. Ideal for mid-distance runs as well as loading and unloading trailers, it's a handy, multi-use solution for nearly any application.
Continued Performance
According to recent studies by Peerless Research Group, more and more forklift owners plan to keep their forklifts for 10+ years! Just like a car, truck or other motorized asset, periodic maintenance, service and upkeep is required, even under normal operating conditions, to keep your Toyota Electric Walkie Pallet Jack operating to peak performance. It is not uncommon for Toyota forklift owners to well exceed 10 years of use, as long as the forklift is properly maintained. Paired with a Planned Maintenance (PM) Plan, the Electric Walkie Pallet Jack can be an asset for your company for years to come.
Features
Fingertip Control of all Functions

Controller Area Network (CAN-Bus) Communication

"Pinwheel" Capability for Right Angle Stacking

AC Drive Motor

Steel Battery Case

Box Rail Fork Construction

Tool-free cover removal

Directional Thumb Wheels

Electric Horn

Programmable Service Indicator

Anti-Roll Back System

Regenerative Braking

Volt Motor: 24

Electric Disc Brake

Long run times

Transistor Drive Control System (MOSFET)

Programmable Neutral Speed Reduction

Emissions: 0

Up to 4,500 lbs. Carrying Capacity

Emergency Power Disconnect

Rated: IP65

Optional Integrated Fork Scale

Highly maneuverable

IP65 Electrical System

24 Volt Electrical System

Multifunction Control Handle with Ergonomically Angled Hand Grips

High-Strength Service Cover with Pen & Pencil Storage Tray

Battery Compartment: 26.5" x 7.8" x Open Height

Integrated Fork Scale

Electronic Brake Release

Click to Creep Function

Spring-Loaded Control Handle
Specifications
| | |
| --- | --- |
| Height (Extended Handle): | 47.2 in |
| Load Capacity: | 4,500 lb. Load Capacity |
| Overall Length: | 53.4 - 81.4 in |
| Overall Width: | 26.6 in |
| Travel Speed Full Load: | 3.6 mph Travel Speed Full Load |
| Voltage: | 24 Voltage |
Links
Electric Walkie Pallet Jack
| Model Number | Load Capacity* (lbs.) | Max. Travel Speed Full Load (MPH) | Max. Lift Speed Full Load (FPM) | Max. Gradeability Full Load (%) | Basic Right Angle Stack** (IN.) |
| --- | --- | --- | --- | --- | --- |
| 8HBW23 | 4500 | 3.6 | N/A | 10 | 85.3 |
Other Electric Pallet Trucks Models