Large Electric Walkie Pallet Jack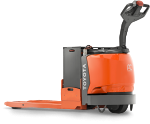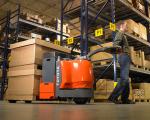 Toyota

Large Electric Walkie Pallet Jack
Electric Pallet Trucks
Overview
Toyota's Large Electric Walkie Pallet Jack makes maneuvering heavy loads throughout the warehouse efficient, convenient and productive. Whether you are using a staging area for loading and unloading or you need a solution for here-and-there material handling jobs, the Large Electric Walkie Pallet Jack is an asset for nearly any application.
Continued Performance
According to recent studies by Peerless Research Group, more and more forklift owners plan to keep their forklifts for 10+ years! Just like a car, truck or other motorized asset, periodic maintenance, service and upkeep is required, even under normal operating conditions, to keep your Toyota Large Electric Pallet Jack operating to peak performance. It is not uncommon for Toyota forklift owners to well exceed 10 years of use, as long as the forklift is properly maintained. Paired with a Planned Maintenance (PM) Plan, the Large Electric Pallet Jack can be an asset for your company for years to come.
Features
Low-Effort Control Handle

AC Drive Motor (No Brushes or Commutator)

ON-BOARD SELF-DIAGNOSTICS

Regenerative Braking

Programmable Performance

DIRECTIONAL REVERSE SWITCH ON CONTROL HANDLE

MULTIFUNCTION CONTROL HANDLE

AC Drive System

RUNAWAY PROTECTION

Highly Maneuverable

67.4 in. Turning Radius

SPRING-LOADED CONTROL HANDLE

One-Piece, Lightweight Service Access Cover

Dual Thumb Wheels for Directional Control and Travel Speed

Error Indicator with Self-Diagnostics

ELECTRIC HORN

volt motor: 24

Emissions: 0

CONTROLLER AREA NETWORK (CAN-BUS)

Welded Construction with Reinforced Heavy-Duty Bumper

24 Volt Electrical System

Controller Area Network (CAN-bus) Communications

Fused Control and Power Circuits

WRAP-AROUND HAND GUARD

SIDE-STABILIZER STEEL BARS

AC DRIVE MOTOR

Multifunction Control Handle with Ergonomically Angled Hand Grips and Wrap-Around Hand Guard

Up to 6,000 lbs. Carrying capacity

Self-Adjusting Electric Disc Brake

Intuitively Positioned Lift/Lower and Horn Buttons (Horn Button on 8TB50 Only)

MPH Travel Speed: 3.7

Teflon® Coated PolyLube™ Lift Linkage Bushings (Maintenance Free)
Specifications
| | |
| --- | --- |
| Electrical System: | 24 V Electrical System |
| Height (Extended Handle): | 56.7 in |
| Load Capacity: | 6,000 lb. Load Capacity |
| Overall Length: | 63.7 - 93.7 in |
| Overall Width: | 32.5 in |
| Travel Speed Full Load: | 3.7 mph Travel Speed Full Load |
Links
Large Electric Walkie Pallet Jack
| Model Number | Load Capacity* (lbs.) | Max. Travel Speed Full Load (MPH) | Max. Lift Speed Full Load (FPM) | Max. Gradeability Full Load (%) | Basic Right Angle Stack** (IN.) |
| --- | --- | --- | --- | --- | --- |
| 8HBW30 | 6000 | 3.7 | N/A | 10 | 81.2 |
Other Electric Pallet Trucks Models