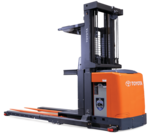 Toyota

Furniture Order Picker
Order Pickers
Overview
From couches to dining room tables, the Toyota Furniture Order Picker is designed to handle your pallet-less tasks. The Furniture Order Picker can accommodate carts or furniture platforms and lift a wide variety of large or bulky items. In addition to maximizing space and excellent performance, you're getting a high-performance lift with superior ergonomics, enhanced visibility, and an all-around power player that can take your fleet to another level.
Comfortability Ahead
The Toyota Furniture Order Picker is designed for operator comfort and ease of use, starting with our intuitive and ergonomically designed control handle. Equipped with same-time speed, lift and lower function, and an on/off switch for ease of use, the Furniture Order Picker enhances productivity through its design.
The advanced suspension system and hydraulic mast staging help improve operator comfort throughout a shift. Additionally, the low step height combined with the padded floor provides the operator with a comfortable ride during travel and elevation changes.
World-Class Warehouse Solutions
With access to the world's industry-leading lineup of material handling products, Toyota dealers are uniquely positioned to help you solve wide-ranging challenges in warehousing and distribution. Built for every application, Toyota can provide the most complete set of solutions for material handling, automation, energy, advanced logistics, and warehouse optimization.
Toyota is here to help optimize your business for maximum efficiency. Utilizing Toyota Lean Management principles, Toyota dealers can provide insights and develop appropriate plans to tackle your specific operational needs. This unique approach to optimization and elimination of waste can provide you with significant competitive advantages and a sustainable lean culture for lasting process improvement.
Features
Standard mesh mast guard provides increased airflow for greater comfort and efficiency

AC drive motor for better acceleration, quiet operation, and overall smoothness of travel

Multifunction control handle with ergonomically positioned handgrips, dual thumbwheels, and lift, lower, and horn buttons for simplified operation of all controls with either hand

Auto-locking clamp allows for quick locking onto clamp blocks on platforms or carts

Glance and go display provides a quick summary of critical information

Upgraded lift/lower speeds allows for maximum flexibility and increased accuracy while picking products
Specifications
| | |
| --- | --- |
| Lifting Capacity: | 1,600 lbs Lifting Capacity |
| Max Elevated Height: | 366" Max Elevated Height |
| Voltage: | 24 / 36 Voltage |
Features

Features

Standard mesh mast guard provides increased airflow for greater comfort and efficiency

AC drive motor for better acceleration, quiet operation, and overall smoothness of travel

Multifunction control handle with ergonomically positioned handgrips, dual thumbwheels, and lift, lower, and horn buttons for simplified operation of all controls with either hand

Auto-locking clamp allows for quick locking onto clamp blocks on platforms or carts

Glance and go display provides a quick summary of critical information

Upgraded lift/lower speeds allows for maximum flexibility and increased accuracy while picking products

Specifications

Specifications

| | |
| --- | --- |
| Lifting Capacity: | 1,600 lbs Lifting Capacity |
| Max Elevated Height: | 366" Max Elevated Height |
| Voltage: | 24 / 36 Voltage |
Other Order Pickers Models