48V Electric Pneumatic Forklift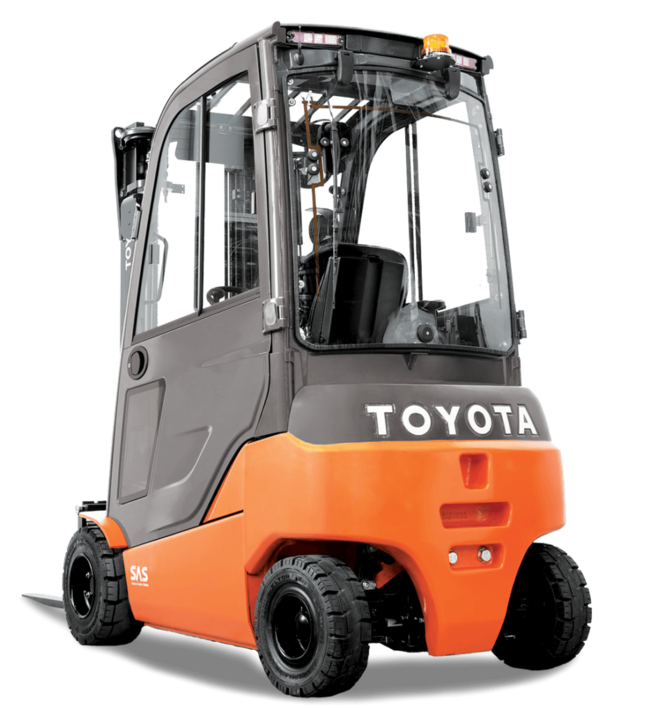 Toyota

48V Electric Pneumatic Forklift
Electric Forklifts
Overview
In material handling, the last things you need are limitations. Utilizing different trucks for indoor and outdoor work creates inefficiencies that ultimately impact your bottom line. When you need raw power to tackle outdoor challenges and efficient, environmentally friendly operation indoors, look no further than Toyota's 48V Electric Pneumatic Forklift.
An Operator's Dream
Designed with the operator in mind, the 48V Electric Pneumatic comes equipped with amenities to help do the job quickly and efficiently. Standard mini-lever controls offer comfortable and ergonomic material handling while minimizing movement. Mast options with an adjustable, slim steering column and a low dashboard deliver excellent visibility during travel and load handling.
Features
Battery compartment hood assist

48-volt electrical system

Electric horn

Operator Sensing System (OPSS)

Environmental options available

Automatic parking brake

Heavy-duty non-slip floor mat

Easy access no-tools floorboard

Multifunctional display

Overhead guard

AC drive and lift motors

ORS (Operator Restraint System) full-suspension vinyl seat

Wet disc brakes

All metal rugged exterior

System of Active Stability (SAS)™

Planned maintenance indicator

Seat mounted hydraulic mini lever controls
Specifications
| | |
| --- | --- |
| Load Capacity: | 3,000 - 4,000 lb. Load Capacity |
| Travel Speed Full Load: | 12.4 Travel Speed Full Load |
| Voltage: | 48 Voltage |
Continued Performance
Just like a car, truck, or other motorized assets, periodic maintenance, service, and upkeep are required, even under normal operating conditions, to keep your Toyota 48V Electric Pneumatic Forklift operating at peak performance. Built using the Toyota Production System, this 48V Electric Pneumatic Forklift gives you the highest levels of quality, durability, and reliability of internal combustion trucks, with the speed and economic advantages of an electric forklift. Paired with a Planned Maintenance (PM) Plan, the Electric Pneumatic Forklift can be an asset for your company for years to come.
48V Electric Pneumatic Forklift
| Model Number | Load Capacity* (lbs.) | Max. Travel Speed Full Load (MPH) | Max. Lift Speed Full Load (FPM) | Max. Gradeability Full Load (%) | Basic Right Angle Stack** (IN.) |
| --- | --- | --- | --- | --- | --- |
| 8FBMK16T | 3,000 | 12.4 | 84.6 | 17.3-23.6 | 89 |
| 8FBM16T | 3,000 | 12.4 | 84.6 | 15.3-24.2 | 93.2 |
| 8FBM18T | 3,500 | 12.4 | 82.7 | 15.3-21 | 93.2 |
| 8FBMK20T | 4000 | 12.4 | 74.8 | 13.4-18.3 | 90.2 |
| 8FBM20T | 4000 | 12.4 | 74.8 | 13.4-18.3 | 93.2 |
Other Electric Forklifts Models