Core IC Cushion Forklift (8FGCU25)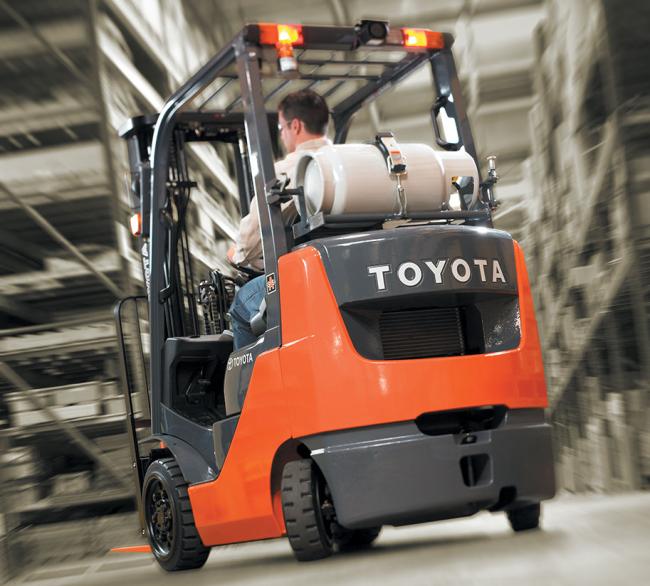 Toyota

Core IC Cushion Forklift (8FGCU25)
Internal Combustion Cushion Forklifts
Overview
Toyota's Core IC Cushion Forklift is one of the most popular forklifts in North America. Warehousing and distribution applications, the auto industry, general manufacturing plants and retail storefronts often utilize Toyota's Core IC Cushion for its extreme versatility. Powerful enough to lift up to 6,500 lbs. yet capable of navigating in 12 foot aisles, the Core IC Cushion forklift is a trusted multipurpose forklift. Model numbers: 8FGCU15-32 | 8FGCSU20
Heart of the Line
The top selling Core IC Cushion Forklift is an industry-leading, multi-use forklift that comes with legendary Toyota reliability, starting with the world-renowned 4Y engine. Toyota's innovative System of Active Stability comes standard on all Core IC Cushion models to help protect both product and people.
Changing LPG Tanks
Liquid propane gas (LPG) is a flammable and explosive gas. Changing a forklift LPG tank requires proper instruction. Click to learn eight tips for responsibly changing the LPG tank on your IC forklift.
Continued Performance
According to recent studies by Peerless Research Group, more and more forklift owners plan to keep their forklifts for 10+ years! Just like a car, truck or other motorized asset, periodic maintenance, service and upkeep is required, even under normal operating conditions, to keep your Toyota Core IC Cushion Forklift operating to peak performance. It is not uncommon for Toyota forklift owners to well exceed 10 years of use, as long as the forklift is properly maintained. Paired with a Planned Maintenance (PM) Plan, the Toyota Core IC Cushion Forklift can be an asset for your company for years to come.
Features
Easy-lift engine hood

Externally-mounted hydraulic oil return filter

HORSEPOWER: 51

Exclusive QR code diagnostics

MPH TRAVEL SPEED: 10.9

SYSTEM OF ACTIVE STABILITY (SAS)

Fully-sealed air-intake system

BOLT-ON OVERHEAD GUARD

Over 23' lift height

4-Way adjustable vinyl full-suspension seat

Easy-access no-tools floorboard

Fully-stamped steel side panels

LED headlights

SELLING IC CUSHION FORKLIFT: #1

11.8" diameter two-spoke steering wheel

Independent brake & inching pedals

Navigation in 11' – 12' aisles

OPERATOR PRESENCE SENSING SYSTEM (OPSS)

Heavy-duty non-slip rubber floor mat

Dash-mounted brake fluid level check

LCD multi-function display

Up to 6,500 lb lift capacity

Large-capacity engine cooling fan

12" dual operator assist grips

Air cleaner discharge valve

Low, wide-entry steps

NEUTRAL ENGINE START SAFETY SWITCH

Engine hood assist damper with lock device

Toyota 136 cu. in., 4-cylinder engine (4Y-ECS)

Load Sensing Hydrostatic Steering

Dash-mounted instrument display

KEY-LOWERING INTERLOCK
Specifications
| | |
| --- | --- |
| Fuel Type: | Gas / LPG / Dual Fuel Fuel Type |
| Length to forkface: | 82.3 - 98.6 in |
| Load Capacity: | 3,000 - 6,500 lb. Load Capacity |
| Overall Width: | 37.2 - 43.7 in |
| Overhead Guard Height: | 80.1 - 80.7 in |
| Travel Speed Full Load: | 10.9 MPH Travel Speed Full Load |
Links
Core IC Cushion Forklift
| Model Number | Load Capacity* (lbs.) | Max. Travel Speed Full Load (MPH) | Max. Lift Speed Full Load (FPM) | Max. Gradeability Full Load (%) | Basic Right Angle Stack** (IN.) |
| --- | --- | --- | --- | --- | --- |
| 8FGCU15 | 3,000 | 10.9 | 110 | 43 | 83.5 |
| 8FGCU18 | 3,500 | 10.9 | 110 | 40 | 86 |
| 8FGCSU20 | 4,000 | 10.9 | 110 | 35 | 87.6 |
| 8FGCU20 | 4000 | 10.6 | 120 | 36 | 92.3 |
| 8FGCU25 | 5000 | 10.6 | 120 | 31 | 94.3 |
| 8FGCU30 | 6000 | 10.6 | 98 | 25 | 97.5 |
| 8FGCU32 | 6500 | 10.6 | 98 | 25 | 98.8 |
Other Internal Combustion Cushion Forklifts Models